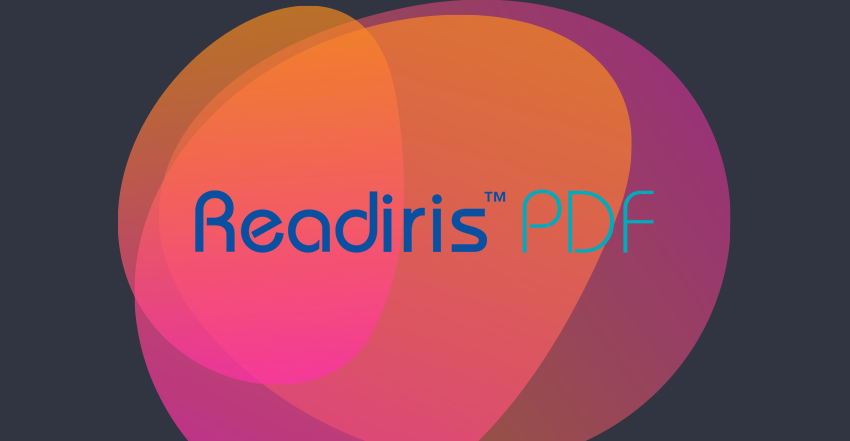 In today's fast-paced digital world, efficient document management software solutions are crucial for businesses to stay competitive and streamline workflows.
Greatstone International is excited to introduce Readiris™ PDF 23, a cutting-edge software solution that promises to revolutionise the way we handle documents. Whether you are a Windows or Mac user, Readiris™ PDF 23 offers a range of powerful features that enhance productivity, optimise data handling, and simplify document processing. Request a 30-day free trial for Readiris™ PDF 23 here.
To discover more about Readiris™ PDF 23, watch our comprehensive video which explains more about the software: Watch Video.
Unparalleled OCR Accuracy
Readiris™ PDF 23 stands at the forefront of optical character recognition (OCR) technology, boasting unparalleled accuracy that sets it apart from its competitors. With its advanced OCR capabilities, Readiris™ can effortlessly transform scanned documents, images, and PDF files into editable and searchable text, ensuring precise reproduction of the original document. Say goodbye to time-consuming manual data entry and let Readiris™ streamline your data management processes with unmatched precision.
Effortless PDF Creation
PDF creation and conversing with Readiris™ PDF 23 brings a seamless and powerful solution to the world of document management. With the ability to effortlessly create professional-grade PDFs, this software empowers users to convert paper documents and images into editable and searchable digital files.
The intuitive interface of Readiris™ PDF 23 allows users to easily navigate through the conversion process, preserving the integrity of the original content while enhancing accessibility. This innovative tool not only converts documents into PDFs but facilitates efficient conversations between various formats, ensuring smooth interoperability for both personal and professional use. Harness the power of seamless PDF creation and conversion with Readiris™ PDF 23 from Greatstone International.
Versatile PDF Editing
Readiris™ PDF 23 goes beyond OCR capabilities and empowers users with versatile PDF editing tools. With this software, users can effortlessly manipulate PDF files by adding, deleting, or rearranging pages, ensuring seamless customisation of their documents.
Additionally, Readiris™ PDF enables the conversion of PDFs into editable formats, facilitating easy extraction and modification. With Readiris™ PDF, merge multiple PDF files into a single document, split large PDFs into smaller segments, and compress files for more efficient storage and sharing.
Seamless Collaboration
In an era of cloud computing, Readiris™ PDF 23 keeps you connected and adaptable by being available for Mac and Windows. Offering seamless integration with popular cloud services like Google Drive, Dropbox, and OneDrive, you can access and share your documents from anywhere, anytime. This level of accessibility and collaboration ensures that your team can stay connected and work together efficiently, regardless of location.
Time-Saving Automation
Readiris™ PDF 23 incorporates intelligent image processing and artificial intelligence to handle complex documents, such as those with tables and graphics. This automated approach ensures you spend less time manually editing and formatting documents and more time focusing on curating your content.
The Advantages of IRIS Software From Adobe
As Adobe Acrobat has demonstrated, IRIS offers a powerful solution for optimising document management. Using IRIS streamlines workflows by converting paper documents into searchable digital files. Adobe Acrobat users can transform any image into a searchable and editable PDF with IRIS, seamlessly integrating into Adobe software.
Readiris™ PDF 23 available from Greatstone International
Greatstone International is a leading supplier of top software solutions, the latest of which is IRIS. Whilst we consistently introduce new solutions to the range, we have been thrilled with our exploration and tests conducted on Readiris™ PDF 23 for Windows and Mac and its unparalleled OCR technology is earmarked to be the ultimate document management solution.
With Readiris™ PDF 23, users can streamline collaboration, extract information effortlessly, and save valuable time through intelligent automation. Greatstone International's commitment to innovation shines through this comprehensive tool, providing users with a transformative experience in document management.
Unlock the potential of efficient document management by requesting a 30-day free trial for Readiris™ PDF 23. Experience first-hand the seamless PDF creation, conversion, editing and collaboration capabilities that this cutting-edge software offers.
If you are unsure whether Readiris™ PDF 23 for Windows and Mac is the best software for your needs, please get in touch, and we can assist and guide you in the right direction.