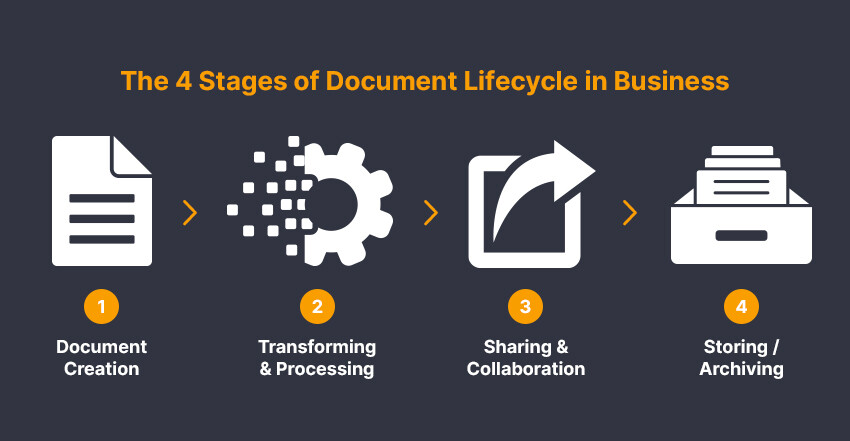 The processes that a document goes through, from creation to archiving, including the manipulation and sharing steps, is known as the Document Lifecycle. Managing the Document Lifecycle is critical to ensure that documents are accessible and up-to-date and that your business remains compliant.
Stage 1: Document Creation/ Generation
The genesis of every document is its creation or, in the case of external documents, its arrival in your corporate ecosystem. Documents can be generated in many ways and using a variety of software. Whether created from an ERP, desktop document management suite or corporate workflow, implementing effective document lifecycle management, especially in its beginning stages, offers you, your customers and future auditors confidence in the authority and legitimacy of documents in your system.
If you are looking for software to complement the document creation/generation Document Lifecycle stage, here are our recommendations:
For Word documents, we recommend Aspose Words. This cross-platform software allows developers to Automate, Modify, Render, Generate, Convert, and Print documents without using Microsoft's Word processing suite MS Word.

A top-performing component for spreadsheet automation is IronXL. With the capability to process, automate and dynamically manipulate Excel file formats, IronXL software gives the developer full programmatic control of the document.

For PDF documents, PDFlib is a leading development library that gives developers granular level control of a PDF document. From creating, importing and personalising PDF's to creating a "Save as PDF" in any application or environment.
Discover more about our recommended products for document creation.
Stage 2: Transforming and Processing
Transforming and processing the document is the next step in the Document Lifecycle. Now, it is a matter of making the data and content of the document usable for others. It is crucial to process and transform a prepared document into information, as well as to make it understandable for decision-makers, stakeholders, end-users, and staff rapidly and effectively.
Greatstone International offers top-performing software for the transforming and processing stage, including:
GroupDocs. Conversion is a useful component for both transforming and processing documents and images. It gives developers the capability to build robust document conversion applications.
For project documents, Aspose. Tasks is a top-performing component that gives developers the capability to build applications to manipulate, read, and write MS Project file formats.
For desktop PDF transformation and processing, Able2Extract is an automation tool that delivers high-fidelity conversion of PDF documents to editable Microsoft Office formats, including Word, Excel, PPT, AutoCAD, HTML, images. You can also convert scanned (image-based) PDFs with the help of a powerful OCR engine refined over the years to deliver the best possible results.
Discover more about our recommended products for document processing.
Stage 3: Sharing/Collaboration
Once the internal processing and developing stages are complete, the document is operational and ready to be shared or circulated for collaboration internally or externally. An environment that supports seamless digital collaboration and sharing and allows document access from any device at any time is critical in the stage of the Document Lifecycle. It improves efficiency, ensures document integrity and security, and reduces uncertainty and error in the document lifecycle process.
Greatstone International provides the best sharing and collaboration software. Here are our highest-performing products:
Developers can use the GroupDocs. Signature to create dynamic Digital Signature applications. This electronic signature library is easy to use application developers can add digital signature features in their applications, secure eSign features, search and verify e-Signatures
WinForms is the most comprehensive UI and UX component suite from DevExpress. It is a fully integrated library of high-performance data visualisation tools so you can deliver intuitive business intelligence dashboards in the shortest possible time.
To edit shared documents, GroupDocs. Editor is a developer API to manipulate Microsoft Office, OpenOffice, HTML and other documents within your Java and .NET applications.
Discover more about our recommended products for document collaboration.
Stage 4: Storing/Archiving
The final step entails document and data storage and archiving. Security vulnerabilities have become typical in organisations storing sensitive data, making it imperative to protect crucial customer data, product information, and corporate data. Long-term archiving ensures that the document is retained in accordance with the storage guidelines for that document type. To ensure your local, cloud, or ERP-based documents are always available and secure they should be stored in PDF/A format.
Portable Document Format Archivable (PDF/A) is an ISO-standardised version of PDF specialised for use in the archiving and long-term preservation of electronic documents. It provides a 'profile' that ensures reproducibility in years to come.
PDFLib is our top-performing PDF/A component:
Our PDFlib range of components supports all versions of PDF/A-1, PDF/A-2 and PDF/A-3 and PDF/A-4. It provides application developers with a library to build storage engines that allow numerous PDF/A-related operations, including:
Creating PDF/A from scratch
Converting raster images to PDF/A
Process existing PDF/A documents
Attaching PDF/A documents to PDF/A-2 or arbitrary file types to PDF/A-3
Discover more about our recommended products for document archiving.
Contact us for Document Lifecycle Support
Greatstone International offers developers and enterprise users the best-performing, award-winning digital transformation components. Partnering with us, to provide all your digital transformation needs creates an extension of your business. We are passionate about delivering developer tools and end-user solutions at the best prices. You can feel confident about your Document Lifecycle with our experienced team of driven individuals working with you.
We can provide document lifecycle support across all four stages, as well as being a provider of a range of different products to help improve your business. Get in touch with our team of experts today, who will be happy to discuss your requirements.