If you've been closely following IT and software industry trends in recent years, you've likely heard one particular buzzword crop up again and again: Digital Transformation. It's what every business is looking to achieve right now, and for good reason. However, with the term being used so often and in a variety of contexts, its definition can get confusing. So before we go any further, let's first define exactly what we mean by 'Digital Transformation'.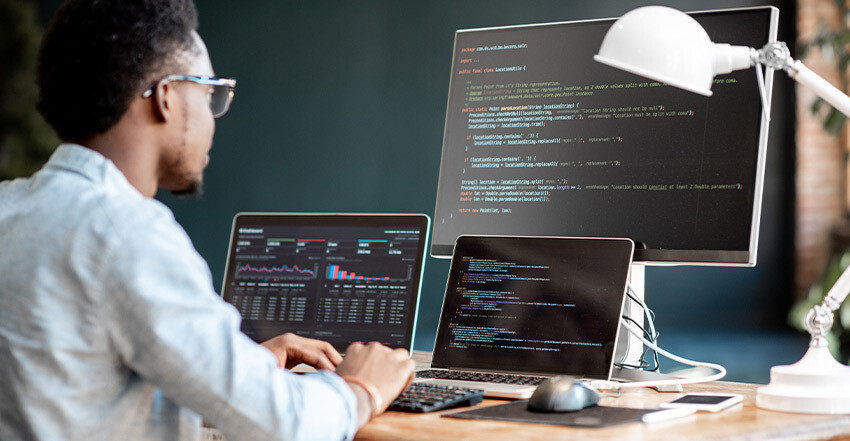 What is Digital Transformation?
Put simply; Digital Transformation is about modernising your business operation and making it more efficient. This is done by adopting digital technology to replace existing manual/non-digital processes. It also refers to the use of new technology instead of outdated software systems. The topic of Digital Transformation is particularly pertinent in the current climate, with the COVID-19 pandemic emphasising just how much businesses rely on technology that enables staff to work remotely. However, what can sometimes be overlooked in these discussions is the important role software developers play in Digital Transformation.
The Role of Software Developers
C-level executives depend heavily on in-house software developers to be amongst the main drivers of Digital Transformation within their enterprise. They hold the technical expertise and knowledge responsible for engineering high-performance software tools that make employees more productive and the user experience of customers more refined. Therefore, equipping developers with the best solutions for building such platforms is of utmost importance.
Digital Transformation Tools from Greatstone
When it comes to Digital Transformation, there's a lot of jargon surrounding the cloud, virtualisation, and the culture and attitudes of organisations. However, data management, presentation, processing and analytics should underpin the requirements of any Digital Transformation project, as without data, information and documents, there is very little for your business to work with. This is where Greatstone International's components come in - an extensive range of tools that software developers should have at their disposal in order to achieve Digital Transformation. See below for examples of our developer tools and the Digital Transformation requirement they fulfil:
Management
Presentation
Processing
Analytics
Get Digital Transformation Consultancy
At Greatstone International, we're passionate about helping you digitally transform your business. Whether it's about GroupDocs, ActivePDF or another of our developer tools, we offer free Digital Transformation consultancy. To discuss your project needs and work out what's best for you, contact us today.